Ajoneuvoharrastajien kirkkopyhä
su 10.6. kello 10.00 - su 10.6. kello 11.15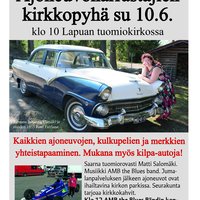 Tervetuloa kirkkoon klo 10.
Jumalanpalvelus su 10.6. klo 10 tuomiokirkossa.
Ajoneuvoharrastajien kirkkopyhä
Aihe: Kutsu Jumalan valtakuntaan
Saarnan pitää Matti Salomäki, joka haastattelee Anne Kiveä.
Musiikista vastaa AMB the Blues Bänd. Kanttorina on Rudolf Cerc.
Virret: 511:1-5; 960; 408; 924; 932. Kolehti: Kirkon ulkosuomalaistyöhön, Kirkkohallitus. Radiointi 96,9 MHz.
Ajoneuvoja voi ihastella jumalanpalveluksen jälkeen parkkipaikalla. Ajoneuvoharrastajien kirkkopyhään ovat tervetulleita kaikki ja kaikenlaisilla ajoneuvoilla. Kyseessä on kaikkien ajoneuvojen, kulkupelien ja merkkien yhteistapaaminen, jonne kutsutaan harrastajia koko maakunnasta. Tällä kerralla on myös mukana erikoisia ajoneuvoja esim. Ford Formula.

Parkkipaikalla on tarjolla kaikille kirkkokahvit ja makkaraa on myynnissä. Ja klo 12 tuomiokirkossa alkaa AMB the Blues Bandin konsertti. Vapaa pääsy. Ohjelma 10€. Tervetuloa!
---